To transform patient care with innovative clinical solutions
Baylis Medical Technologies seeks to improve the lives of patients through the conception and commercialization of state-of-the-art medical devices. Our dedication to innovation drives our clinical solutions in the markets we serve.
To assist us in realizing our mission, Baylis Medical Technologies adheres to four core values:
We strive to be at the technological forefront in the conception, development, commercialization and production of medical devices.
We are committed to developing our employees so that they may reach their full potential in their field of expertise.
We strive to provide our customers with excellent, high-quality service and customer support.
Corporate Social Responsibility
We participate in social and environmental initiatives aimed at improving the quality of life of people around the world.
Our commitment to ethical conduct is exemplified by our compliance with AdvaMed's Code of Ethics and code certification with Medtech Canada. This demonstrates our dedication to core values such as integrity, innovation, education, respect, responsibility, and transparency in our interactions with healthcare professionals. These commitments reflect our ongoing efforts to prioritize responsible conduct and underscores our unwavering commitment to delivering exceptional products and services with the utmost integrity.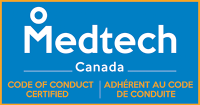 In 1986, Gloria Baylis founded Baylis Medical with a vision to enhance access to care and to serve the needs of patients. Today, we proudly carry forward her legacy at Baylis Medical Technologies by improving the lives of patients through state-of-the-art clinical solutions. With a strong commitment to innovation, we excel in the conception and commercialization of cutting-edge solutions that address the evolving needs of healthcare.
Through our divisions of Endovascular, and Design and Manufacturing Services, we serve a diverse range of specialties within the healthcare industry. Our cutting-edge technologies are utilized by healthcare professionals worldwide to improve patient outcomes for individuals with cardiovascular and other medical conditions.
We are dedicated to continuously pushing the boundaries of technological leadership, employee development, corporate social responsibility and exceptional customer service. Together, these values form the foundation of our organization.